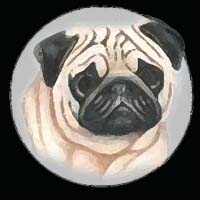 STUD
In choosing the stud ...research into the various bloodlines within your breed and then choose a stud dog and make arrangements well in advance.
He should  complement any deficiencies (bad traits) that your female may have, and he should have a good show record or be the sire of show winners, if he is old enough to have proven himself.
If possible , the bitch and stud have several ancestors in common within the last two or three gereations, as such combinations have been known , generally, to "click" best. -- ( by Robert Parker and Gerard M. collins )

Below are some STUD Numbers   or you can call directly to  the PCCI at  721-71-52 and ask for the    championline PUG.
P2,500 w/ shooter, champ bloodline. Call 5260707.

P2,500 US imptd, AKC reg, proven, show qlty, fawn, free shooter/boarding. 3612040 /33 / (0917)8320518 

P1,500 proven twice, US imptd. Call 9166004.

P1,500 big head/body, wrinkled face. Call 361~93~50. 

P2,000 black, champ bloodline, heavy boned, proven. Call 6321076.