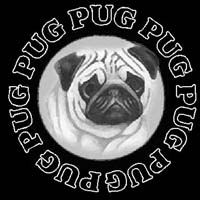 You ask of my opinions. Hills, sir, and the sundown, and a dog as large as myself that my father bought me. They are better than beings, because they know, but do not tell  - Emily Dickinson

MMMMMM
  zzz
APRIL 25 , 2000 TANIKALANG GINTO'S DISCOVERY WEBSITE OF THE DAY

[ PICTURE GALLERY ]  [ BREEDERS ] [ FOR SALE ]   [CLINICS ] [ STUD ] [ SEARCH ]
The Pug has been referred to as ''Multo in Parvo'' meaning ''a lot of dog in a small space''. The Pug is an even-tempered breed who is playful, outgoing, dignified, and possess great charm.

Did you know?
The Pug, one of the oldest breeds, has flourished true to his breed down through the ages from before 400 BC. The Pug was accepted for registration with the AKC in 1885.

Click the image
to view the pug Illustrated standard (for more visit www.pugs.org)
PHILIPPINE ALL-BREED DOG SHOWS THIS APRIL2001
Apr 07, KCCI, All Breed Show, will judge by Ms Ko I Shen (Taiwanese), Venue: Cebu City

Apr 08,KCCI , All Breed Show, Tong Sue Lynn from Singapore,Venue: Cebu City

Apr 15, K-9, Obedience Trial,Romualdo
Palicpic, Fil, MarikinaRiverbanks Center

Apr 21,PCCI, All Breed Show , Jack Paden
South Africa

Apr 22, PCCI, All Breed Show, Roberto Tesoro,Fil

Apr 29,PUDA, Reality Trial, Venue: To Be
Announced, Time: 3:00 PM Look for Roy Badillo Tel: 913-8540

PHILIPPINES - Pug for Pet cost 15,000.00 -20,000.00 pesos

Show type / Championline pug-   cost  30,000.00 pesos and up
Use spray Bottle
this will help your dog  learn your rules.

Feeding - the feeding dish may have an unpleasant odor. Plastic bowls can retain the smell of old food, even after washing. Try switching to a ceramic or stainless steel bowl.

Teeth - Make sure you check your  pug's teeth and gums once  a week. Make sure there is no sign  of gum infection or   tartar build-up  on the teeth. Gently brush the teeth and gums with a soft toothbrush, using either diluted salt water or a canine toothpaste.